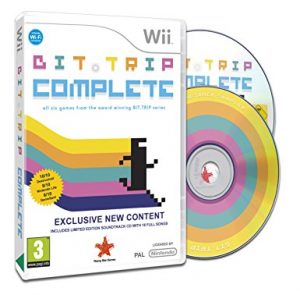 The Bit.Trip Complete is a collection of all the Bit.Trip series – Bit.Trip Flux, Fate, Runner, Void, Core, and Beat. Aside from the complete Bit.Trip game series, included in this Complete set are the following:
– Bit.Trip Soundtrack Sampler, a music CD that features pieces from all of the Bit.Trip games
– additional 20 challenge levels for the games
– bonus video content featuring game trailer, cut scenes, and game-related production
– a section of "letters to fans" delving into Commander Video's epic journey
The Bit.Trip Complete runs on the Nintendo Wii platform and was released last September 13, 2011.
If you're interested in reading more overviews, articles, and reviews concerning video games, mobile apps, casino games, and more, head on over here and get regular dose of your favorite stuff.