Are you ready to party the BIT.TRIP way?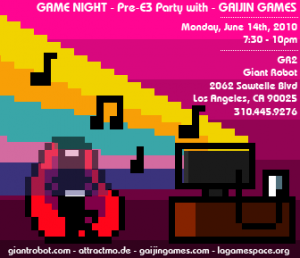 Party with us at the Pre-E3 Party at the Giant Robot! If you're crazy about the BIT.TRIP games, then you really should go!
The Game Night is an open event where everyone is invited. We're excited to meet all of our fans and interact with you all. Let's eat, drink, and be merry! But most of all, let's play all the games projected on the buildings.
To jumpstart the first Game Night, we've partnered with the awesome people at LA Game Space, Giant Robot, and Attract Mode. And we couldn't have picked a better time to set the Game Night because everybody's just in time for the E3!
Now, the only thing to do is wait for you, and then we're set to play to our heart's content, meet the awesome people in the industry, and get ourselves stuffed with the BIT.TRIP-themed menu courtesy of the people at GR2 restaurant. And yeah, there's BIT.TRIP BEETS too!
See you there, folks!
If you'd like to hear more news and updates about the latest video games, video events, mobile games, casino apps, and other stuff related to the gaming industry, it's time you regularly check us here, and we'll bring everything you need to know!